yes, and there was a moonie, and more! friday morning, the postman gave me a package with some moonies and other goodies...can anyone guess who the postman is???
drumroll pleaseeeeeeee...
bitty boo
...
her package made my day even brighter...she sent me a beautiful card with such a sweet message...and a pic of her fur baby
sienna
on the front of the card...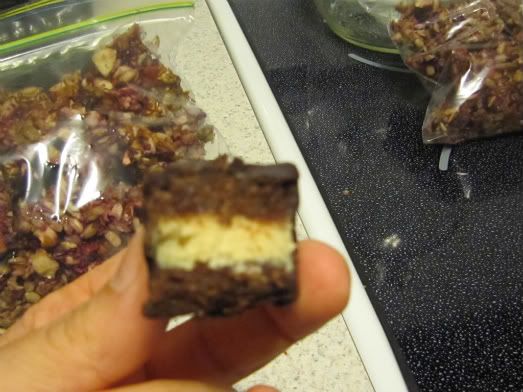 thank you aimee (
a bitt of raw
) for doing this exchange with me...truly honoured that you picked me to do it with...your moonie pies are outstandingly delicious...i had never in my life tried durian...and the durian moonie pie was delicious...the mint chocolate is such a treat, i love mint chocolate, and the chocolate with the raisins, nutmeg, cinnamon etc., is beautiful...i haven't eaten the vanilla moonie pie yet, i'm taking it slow...i don't want it to be over...haha...but again, thank you so much bitty boo...i, truly, from the bottom of my heart, am just so happy we exchanged treats, and honoured that you picked me to do the exchange with...i heart you little lady...and thank you for such a beautiful card and message, my smile was truly radiant...
ok...so does anyone wanna guess what i ate for breakfast, this very beautiful morning???
oh yes i did!!! and it was divine...holy mother of chocolate...i couldn't eat the whole thing...half was good enough for me...i ate breakfast at 9 a.m. and was full until 1 p.m...amazing in itself...i think i'll have
rawdorable
cupcakes every breakfast for the rest of my life, please!
have a beautiful night my loves...sweet dreams...