i was pretty excited to come home from work today (well i usually am)...i was set on making a raw vegan "
hostess with the mostess cupcake
"...i really want to get on the
ellen bandwagon
...but...as i was getting everything ready i realized i forgot to do something...can anyone guess what that is? i forgot to soak cashews for the whip cream part of the recipe...carp! (carp is a fish, i promise to keep this post kid friendly!)...
so anyway...i received my moonies and chocolates today from an amazing gal...but i won't blog about it until she receives her package on tuesday...this is what the lovely gal is getting, i just don't want her to think she's not getting anything, because she is: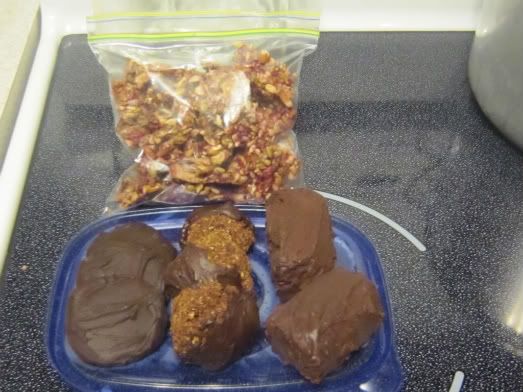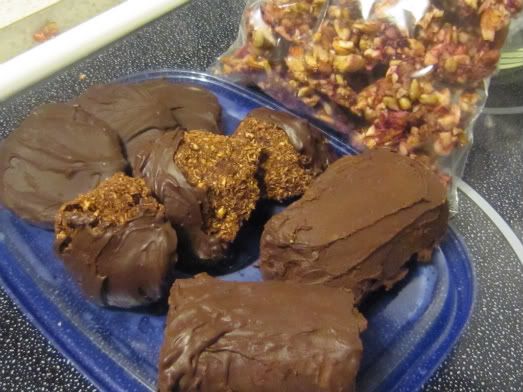 i'm also sending another little package out to another very special gal...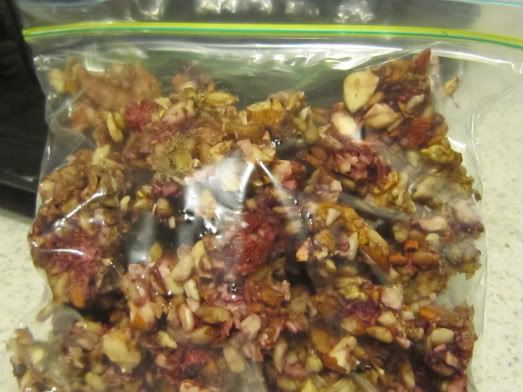 ok...so about the giveaway...i have one more chocolate mylk moonie left...macaroons galore...and thin mints...and raspberry vanilla rawnola (i made 3 quarts)...and i'd really love to send them to someone...so if you're interested leave me a little note in the comment section and let me know why i should send these treats your way...make it really corny, i'm in a corny kinda mood (just kidding, not really, but i am)!!!! all the ingredients i use are organic, and all treats are raw vegan...i'll pick a winner on saturday, may 1...
speaking of giveaways...averie is hosting an amazing giveaway...
check it out
...
tomorrow john and i are going somewhere so incredibly special...i cannot for the life of me contain my excitement...his sister is a fashion designer, and you'll all love this...she makes clothing out of old clothing and fabric...very green! take a
sneak peak
at her line...i am so incredibly proud of this girl, it isn't funny...and she is VERY modest...which i don't understand! i think she is a fashion genius...and i am not just saying this because i love her to death...i mean it...from the bottom of my heart!
anywho...i wish you all a very beautiful weekend...with sunshine, happiness and so much love...