what a beautiful day...i hate that it came to an end...the weather was phenomenal...i guess when sunlight is lacking you totally appreciate when it decides to come out and play...today i did so many of my favourite things...i was fortunate to spend the entire day with my johnny (he works evenings during the week so i don't really get to see him or hang out with him)...and my entire family...and i did something i haven't done in so long...drive...with "my" music blaring, and singing my little heart out...i sang...and i sang and i sang...i'm not one to sing in the shower, although, sometimes i do...i remember not too long ago, not being able to get the song "speechless" by lady gaga out of my head and making a point to sing it in the shower for weeks...i'm such a nerd! anywho...ladies, today i sang...and it made my heart grow really big warm fuzzies (i know it doesn't really make sense, but it does in my world)...
so...let me rewind to the craziness that was yesterday...i went to work...went grocery shopping...and i hunted organic raspberries...yes i did...apparently, they do not exist at the moment...i searched high and low...i even went back out to a 24 hour grocery store...at 11:00 p.m. (who does that? only i? crazy girl! yes, i admit it...)...and nothing...so...i had to do without them, but i came up with another brilliant idea...i made "mylk" chocoalte instead of a raspberry "creme"...uh huh...and it was beautiful, is beautiful, actually...(i know you have no idea what i am talking about, but you will)...
so after grocery shopping and playing ball with my little goofball...i got started in the kitchen, i made the lasagna and the borscht (which was a hit by the way, and i know this because there's no more soup left for me...and i am happy to report that john's ukrainian meat eating, butter slathering papa was amazed by my vegan borscht...yay for me!)...after all that work and cooking in the kitch...i started to un-bake my (well
heathy's
) moonies...and girlies, these moonies are brilliant...and DIVINE...i made 2 changes, which lead me to my "mylk" chocolate moonie centre/filling...(i did have one disaster though, i very scatterbrainedly added something to the chocolate coating that i shouldn't have and it died on me)...which means, i was only able to actually complete one lopsided moonie...but i have the rest in the freezer waiting for their coating...which i will have to finish hopefully tomorrow or sunday VERY VERY EARLY morning...but...all was not lost with the disaster, i was actually able to make something wonderfully scrumptious with the disaster part...
vegan borscht
6 beets (grated or chopped)
5 medium carrots grated
package of dried mushrooms (soak for 12 hours in 4 cups of water)
one small yellow onion
2 cloves of garlic
2 tablespoons olive oil
mushroom soak water
4 cups of veggie stock
juice of 1.5 lemons
2 tablespoons fresh chopped dill
salt
coarsely ground black pepper
saute onions and garlic in olive oil, add a pinch of salt in a large soup pot for about 3 minutes...add beets and carrots and sliced up dried soaked mushrooms and stir...add the veggie stock and the mushroom soak water...bring to a boil and simmer covered for 2 hours...season to taste with salt and pepper, add dill and lemon juice, serve hot (or cold).
the yummy
lasagna
i made was the brilliant idea of the wonderful susanv from fatfree vegan kitchen...i made a few changes, i added zucchini on top of the spinach and tofu filling...and i used fresh oregano instead of dried...i didn't use basil or rosemary...and i sprinkled some daiya cheese on the top layer in the last five minutes of baking it...it was super yummy!
here's a picture of my plate with the lasagna on it...it sorta fell apart as a i transferred it to my plate...but you can totally make out the zucchini slice in there...(other goodies on my plate are roasted asparagus and fennel salad)...
here are a few pics of the moonie i made...and the "mylk" chocolate filling i conjured up...honestly ladies, when i took my first bite, as corny as this sounds...i totally died and went to heaven...i CANNOT wait to enter into the contest...
...and last but never least, because, it was just as amazing as anything i have ever tasted, my beautiful disaster...when life hands you lemons, you make lemonade...or raw chocolate barky...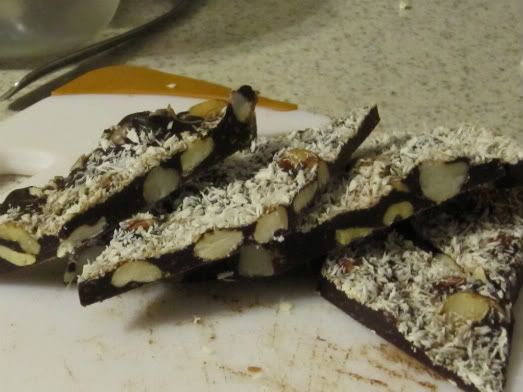 in conclusion, i had a beautiful fantabulous day...i sang...i loved...i laughed...i played...i cooked and uncooked and made something amazing out of a pretty dumb mistake...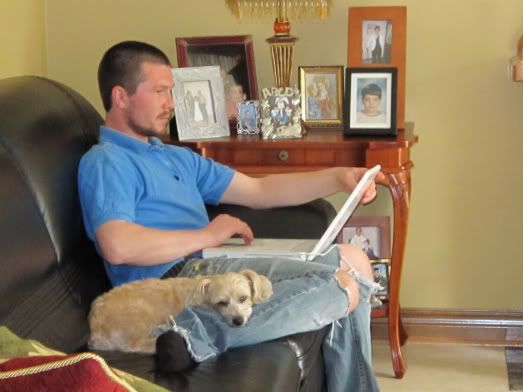 that's a pic of my hubba bubba man and my parents' dog boo, snugglebunnying...i named the little critter after the sweet little girl in the movie monster's inc., we had a cat when we brought little boo home...which i adoringly called kitty...it made perfect sense, non?
just wondering, do you sing out loud for the world to hear? and where (car, shower, kitchen)?
hope you all had a beautiful day...