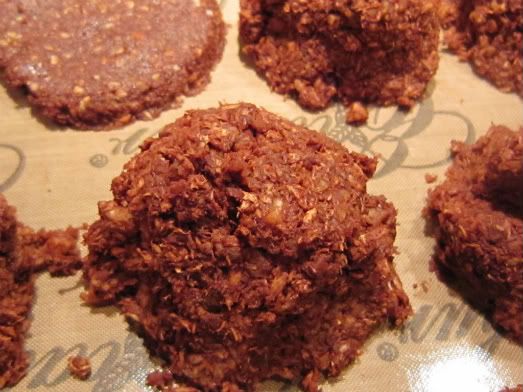 i did. i came up with my own macaroon recipe...i guess it isn't really that hard...as long as you add coconut...right?
one of my many nicknames is nutella...so i decided to name the macaroon:
nutella's hazlenut delight
2 cups of dried unsweetened coconut
1 cup of finely chopped hazelnuts
1 cup raw cacao powder
3/4 cup of raw agave
1/3 cup coconut oil
1 tsp vanilla powder (you can sub vanilla extract)
meat of one young coconut
coconut water (7 tbsp or more, the final macaroon batter should be slightly wet and gooey, use your judgment)
pinch of sea salt
place the meat of one young coconut in a food processor and process until chunky. throw in a 1/4 cup of cacao powder and 4 tbsp of coconut water (or as much as you need) and process until smooth. place mixture in a bowl. add the vanilla powder and the rest of the wet ingredients into the bowl with the coconut meat mixture and whisk gently until well incorporated. in another bowl mix together all the dry ingredients. add the wet ingredients to the dry ingredients and mix well. place small scoop onto teflex sheet and press down lightly. dehydrate for one day (105 degrees). transfer to dehydrator screens for one more day.
i also deciced to make my own raw chocolate chips, i followed the recipe in matthew kenney's
everyday raw
. and in a few days i will use these chocolate chips to make his chocolate chip cookies...i am so excited!!!!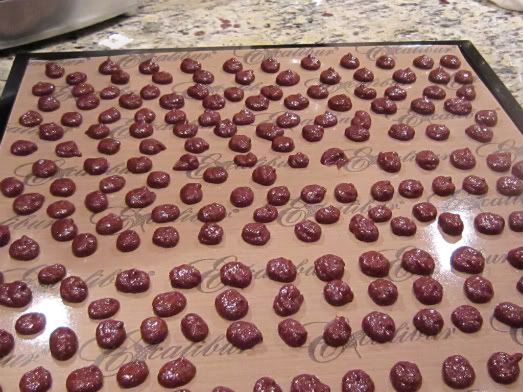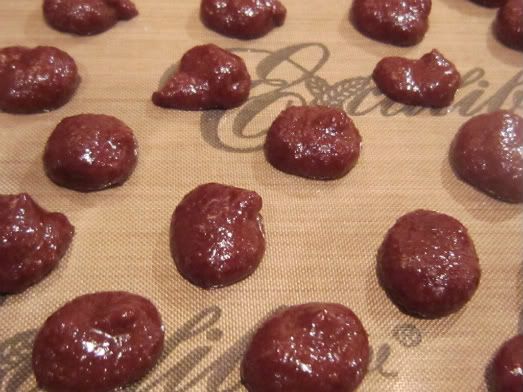 i was definitely pretty busy in my kitchie this evening (i'm trying my hand at poetry, pretty and kitchie rhyme no?)...i also made shannonmarie's
thin mints
...i think i may have put in too much peppermint...but...i'm sure once i coat them with chocolate they will taste as they should...john is a huge fan of after eights, and i actually use to love them too...so perhaps, these will be reminiscent of my after eight days...eating the entire box use to happen quite effortlessly...
they're resting in the dehydrator right now, but i will definitely post a pic of the final product...this is just a rough draft...
andddddddddd...i also made my first batch of kale chips...i used my lovely
averie's recipe
...they too are hanging out in the dehydrator...not sure it's ok for chocolate and kale to hang out together...but, i don't really care at this very moment...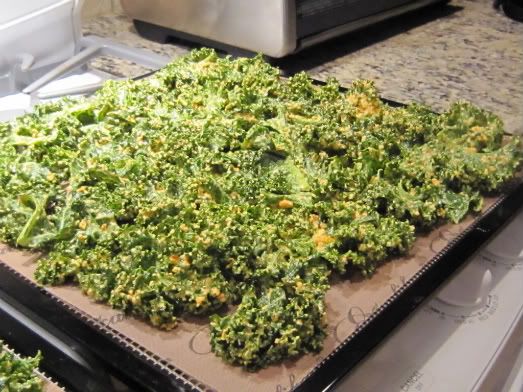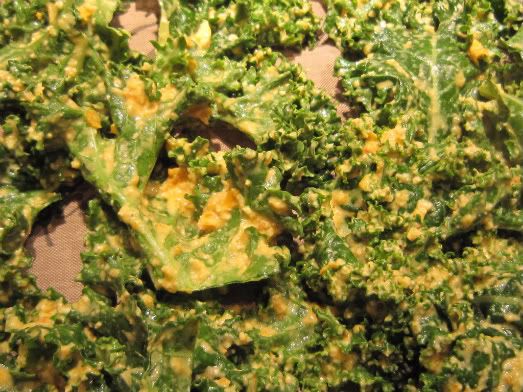 i'm pretty exhausted. so i'm off to bed. don't forget, one more hour and my
first giveaway expires
...i wonder who jackson will pick as the winner????
have a beautiful night lovelies...
<3