sooooooooo...i've been really busy since i last posted...i turned 34...woke up on april 8, 2010...and began my day like all others...as i was exfoliating my face i pulled something in my neck all the way to my shoulder blade...can anyone say excruciating pain? ummm yah! i pretty much drove to the subway in hysterics...
my almost mother-in-law was sweet enough to have me over for dinner, her and her hubby didn't want me to be alone on my birthday (john works nights)...they ordered thai, and my order was red curry tofu...it was soooooo spicy...my mouth was on fire...but it was pretty good...(sorry i didn't get a picture of it)...
i received a few sweet gifts...
i also got a $50 gift card and a stella mccartney top (from my sweetheart)...but i didn't really love it...so we returned it...
and finally, i bought myself my new very best friend...
saturday night we went out for dinner...we went to our fave restaurant...merlot...the restaurant we had our first date...i called ahead to make sure they would be able to accommodate my diet, i was told they had one main dish that suited a vegan diet...and that they could make me any type of salad i wanted...RIGHT?! i ended up having their crudites salad...because they were out of avocados and asparagus...
and for dinner i had their only vegan entree, a tagliatelle with mushrooms, bok choy, red onion, red peppers, garlic and olive oil...it was ok...i enjoyed it...
ok...so on now to some eats...
today i was a bit of a busy bee in the kitchen...
i made some spicy hummus and some sundried tomato pizza cheese...
spicy hummus
2 cans of organic chickpeas
1 tsp of chili peppers
1 tsp himalayan crystal sea salt
1 tbsp raw tahini paste
2 tbsp olive oil
2 cloves of garlic
1 tsp cumin
4 tbsp lemon juice
throw all ingredients into a food processor and process until smooth...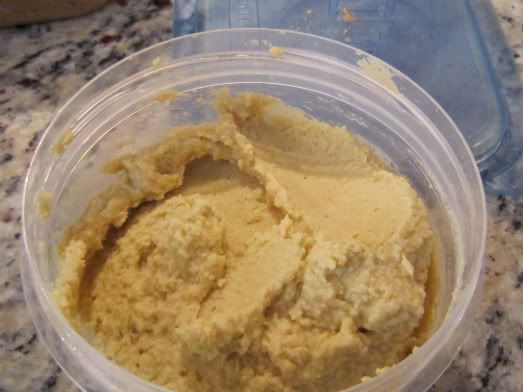 sundried tomato pizza cheeze
2 cups macadamia nuts, soaked 3 hours
1 cup sundried tomatoes, soaked 3 hours
1/2 cup of basil
2 tbsp lemon juice
3 cloves of garlic
sundried tomato soak water
put all ingredients in food processor except soak water...pulse a few times, until everything is pretty crumbly...add soak water slowly, add as much as you prefer...i like my cheeze to be spreadable...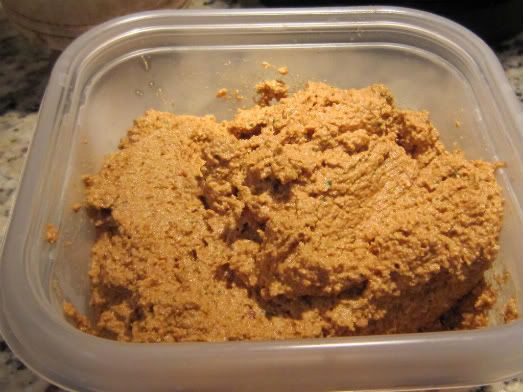 sundried tomato hemp seed bread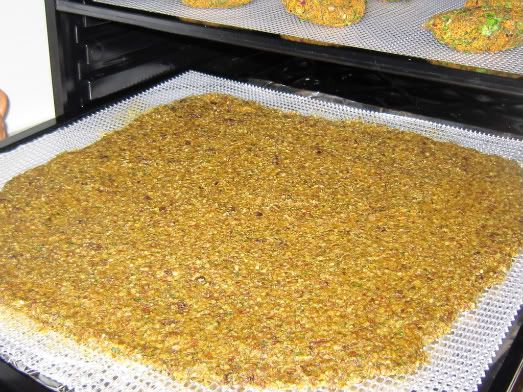 1.5 cup hemp seeds
1/4 cup flax seed, ground in a coffee grinder or spice mill
1 cup almond pulp
1 tsp sea salt
1/2 tsp oregano
1/2 tsp ground back pepper
2 tbsp lemon juice
1 tbsp olive oil
1/4 chopped onion
1 cup spinach
1/2 cup sun dried tomatoes, soaked for 3 hours
mix the 1.5 cups of hemp seeds and flax in a food processor with the sea salt, oregano, black pepper and almond pulp. add lemon juice, olive oil, onion, sun dried tomato and spinach, and mix again, adding water as needed. you want the mixture to moist and dough-like, but not at all runny or overly sticky.
remove mix from processor and flatten to 1/4 inch on paraflex sheets in your dehydrator. dehydrate 6-8 hours...turn the bread over by putting another paraflex sheet over the bread, and then flipping the whole thing. dehydrate for another 6-8 hours, or until bread is very dry and firm, but still pliable. cut into slices and enjoy.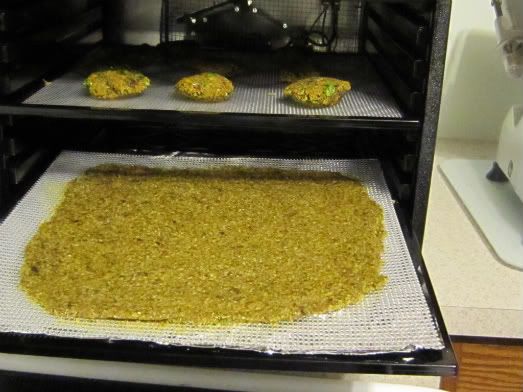 i also made
choosing raw's carrot falafel
...really yummy...i had to make a few subs...i only had 1/2 a cup of black sesame seeds...i used 1 tbsp of flax (because i really really hate them)...and i omitted the cilantro (because i hate cilantro more than flax)...
for dinner i made myself a lovely pizza...i used an ezekiel wrap as the base/crust, i spread 2 tbsp of my spicy hummus and then added some of my mushroom ragout, added some broccoli, red onion, some daiya cheese and some
veggie pizza pepperoni
...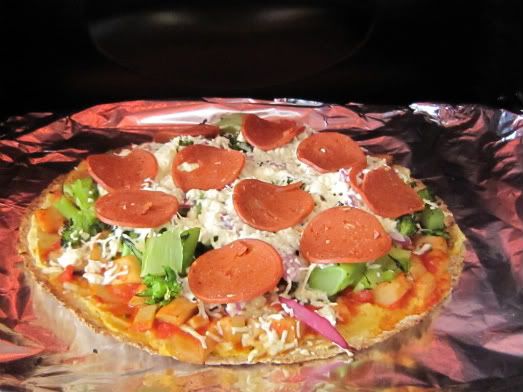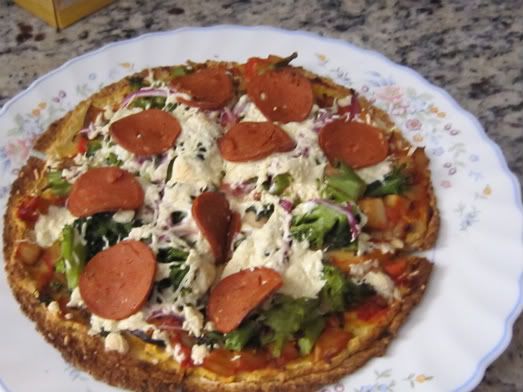 have a beautiful night ladies...