hello my lovelies...how are all of you? how did your weekend go? did you do anything fun? or did you just sit back and relax?!
i had a fabulous weekend, filled with more fun and excitement than i have experienced in a while...it was superb to say the least...and i wish i could do it all over again!
here's a little recap...
friday:
went to the salon and sat for three hours in a chair...and got my hair did...(i really hate getting my hair done, but i love the colour, wasting three hours of my life in a chair inhaling chemicals is not MY idea of fun...that is why most of the time i stretch out my next visit as long as i can, even if my roots are disgusting to look at)...
friday evening i met up with one of my fave girls...camille, the mastermind behind
raw candy
...we met up at
rawlicious
, and had a very delicious raw vegan dinner outside on the backyard patio, such a beautiful environment...hands down, one of the sweetest, friendly, laid back, interesting gals i have had the pleasure of meeting in a while...conversation was so easy...and i honestly could have sat with her for hours...i can't wait for our next dinner date!
we had an amazing meal...we ordered the nacho platter to start (the classic trio of gacamole, "sour cream" and salsa, served with sliced green olives, green onions, hot banana peppers and a pile of rawlicious nacho chips)...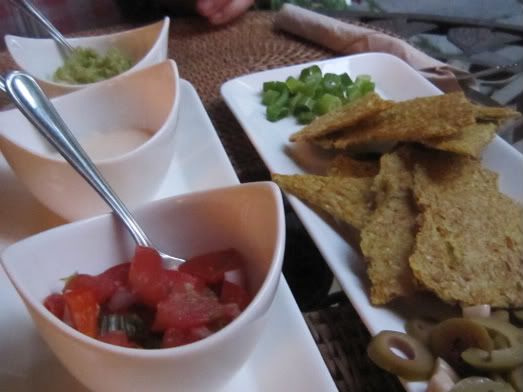 we also shared a pot of "beautiful foolishness" tea...the tea was such a sweet treat...and it was slightly chilly outside, so it helped warm us up...but there is never an excuse to drink tea...it's amazing...hot or cold outside!
for dinner, camille ordered the caesar wrap with a side salad dressed with poppy seed dressing (wrapped in a collard wrap, seasoned nut-loaf, romaine, caesar dressing,chopped peppers and onion bread crutons)...i tasted a a bit of this dish, and it was phenomenal...
i decided to go with the special of the night..."meat" loaf...yes, you read that correctly, "meat" loaf...with a side salad dressed with tangy lemon dressing...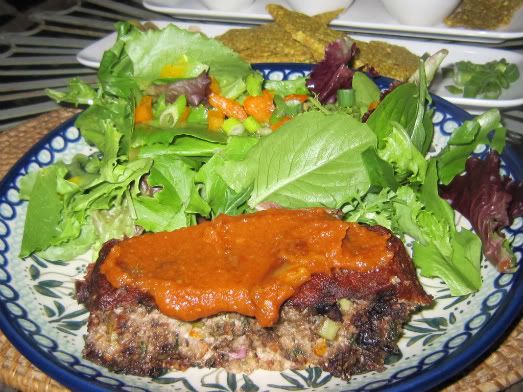 i don't believe i have eaten anything that fantastic in a very long time...i tried to get the recipe out of our lovely waitress, but she wouldn't budge...we even tried bribing her with one of the moon pies i brought with me to give to camille...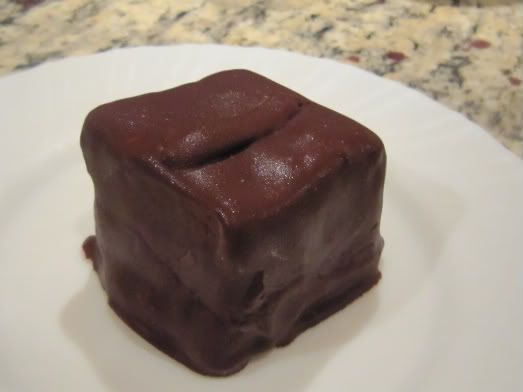 although, camille was very gracious and ended up giving our waitress a moon pie anyway...like i said, one of the sweetest people i have ever met...she's a spectacular human being!!! thanks so much camille for such a lovely time...
camille also wrote a lovely post about our girls' night
here
, check it out...
saturday, john and i visited our local farmers market, and we were lucky to pick up a few goodies...local cucumbers, sweet bell peppers, zucchini, ontario strawberries and rhubard, first peas of the season...and some portabello mushrooms...we also did something SO exciting, we picked up a few plants for our very first garden...which we ended up planting on sunday...here is a sneak peak...i'll post a more extensive entry one day this week...
and within this lovely garden live various sweet little veggies...and in no particular order we have kale, red cabbage, swiss chard, various lettuces, brussel sprouts, eggplant, pickling cucumbers, celery, lemon basil, spicy basil, basil, dill, various hot peppers, including one i thought was so interesting, chocolate habanaro peppers, anyone heard of these before? and we also planted 5 watermelon plants...i cannot wait for our babies to grow...i am looking forward to watching the progress in the coming weeks...i am so so so excited.
we had some friends over saturday night, so john took care of dinner for them and himself...and i took care of some vegan apps, my dinner, and dessert...
for appetizers i served my yummy hummus (chickpeas, parsley, garlic, lemon juice, raw tahini paste, water, salt and pepper)...taquitos (vegan, chorize black bean)...and i made myself a very lovely brown rice pasta with local baby asparagus, kale, garlic and some tomatoes...and on the side i served a lovely kale salad, topped with hemp seeds...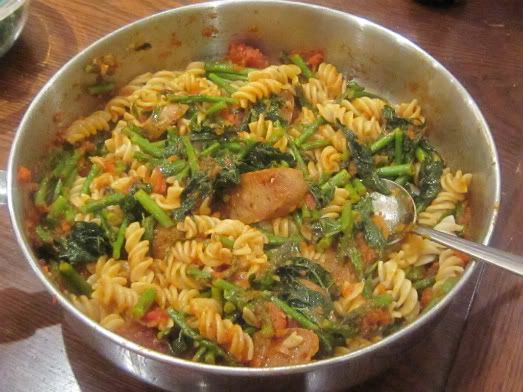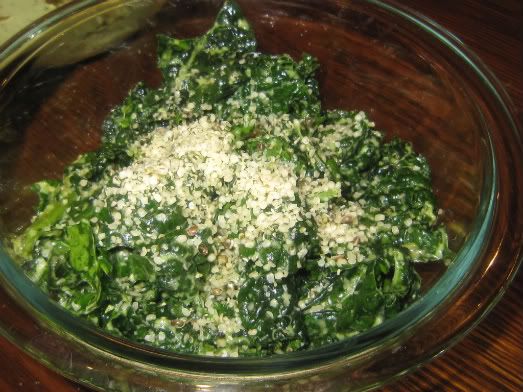 and for dessert, well...i made a lovely vegan strawberry and rhubard crumble out of the beautiful loot we scored that morning...i served mine with so delicious coconut milk vanilla ice cream...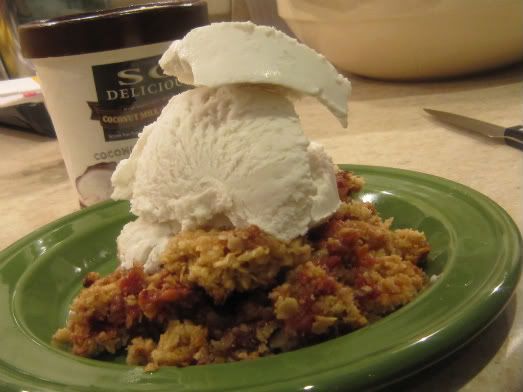 i had such a beautiful weekend...i wish it could have lasted forever...and i am so grateful to have been able to live through it...and experience it...i am definitely grateful for my sweetheart, my fur baby, my friends, my new friendships and having the pleasure of meeting such a
beautiful soul
...earth's bounty and this beautiful universe i am lucky to be a part of...life is dandy...even when it's not...haha!
i have an announcement to make about my exciting giveaway,
ani phyo's raw food essentials
, i have upped the stakes...i am now giving away
TWO
of these amazing books...so spread the word, and good luck to all of you...like i said, i wish i could give all of you a copy...
also, i noticed that some of you who entered didn't enter properly, so i will list the rules here, once again:
here are the rules...
*open to International, US and Canadian residents.
*
MANDATORY
: you must be a follower on google friend connect. it's on the right hand sidebar of my blog. then leave a comment stating that you are.
extra entries:
*follow me on twitter
@nutellaaaa
(
3 entries = 3 comments
);
*tweet about the giveaway on twitter...please include the link @nutellaaaa on your tweet status...
can be done once daily
;
*post on your blog about the giveaway and deadline...please leave a comment with a link to your blog post here...(
5 entries = 5 comments
); and
*add me to your blogroll, come back here and let me know...(
5 entries = 5 comments
)
DEADLINE: Tuesday, June 29, 2010

note: if you do not follow me on google reader, and your name is chosen, i will unfortunately have to pick another name...so please make sure you follow the rules accordingly, i wouldn't want you to miss out...
click here
to enter the contest, if you haven't already done so...
i now leave you with a few pictures of some lovely caramelo moon pies...have a beautiful day darlings...may the sun come out to play with all of you...