a few months ago i gave up coffee...however, these past few days i have been craving it...so i gave into my craving and have had coffee in some way, shape or form since saturday...well...yesterday morning, i wanted a VERY BIG coffee...so i ordered a grande bold in a venti cup...and i ended up wearing it and burning my wrist...(pretty yucky to look at)...so, i think the universe wants me to be stop drinking coffee...although, i would think and hope for future lessons, the universe would be a little kinder...i may have also twisted my body in a bad way yesterday, because i had a bit of a sciatica flare up today...numbness in my foot and part of my leg...i stayed home from work...just to relax and not stress my body out...and i think it worked because i am feeling a lot better...
i have a new dessert for all of you...it is so lovely...i need one more item to complete it...and i will one day...i need an ice cream maker...to make a vanilla cashew ice cream...the proper way...
caramel apple crumble tart/pie
(vanilla ice cream would make it "a la mode")...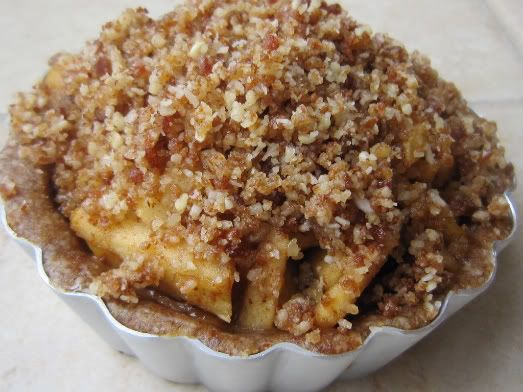 apple filling
2 apples peeled, chopped very finely
2 lemons juiced
2 tsp cinnamon
1 tbsp coconut sugar
mix all ingredients together in a bowl and set aside
tart/pie crust
1 cup almonds
1 cup pitted medjool dates
1/2 cup unsweetened shredded coconut
dash salt
pulse almonds and salt until fine powder consistency. add medjool dates. once a dough is formed it is ready.
caramel filling
1/4 cup agave
1/4 cup of yacon (or 1/2 cup agave or yacon)
1/4 almond butter
1/3 cup lucuma
1/3 cup mesquite
1 tsp pure vanilla extract
3tbsp water or more depending on the consistency you prefer
dash of salt
put all ingredients in a food processor and process until a nice caramel sauce forms.
crumble topping
1/2 cup of walnuts
1/2 cup pecans
1/4 cup of unsweetened shredded coconut
1/4 tsp cinnamon
1/4 cup coconut sugar
dash salt
4 medjool dates
place all ingredients in a food processor, except for medjool dates, process to a semi chunky/flour consistency. add medjool dates...you should end up with a crumble.
assembly
:
press crust into tart pans, pie plate, or tupperware container, spread carmael sauce on crust layer, add apple filling and add crumble mixture. and voila you have yourself a beautifully delicious treat! i was able to get three small tarts and a medium tupperware container filled with apple crumble. yum!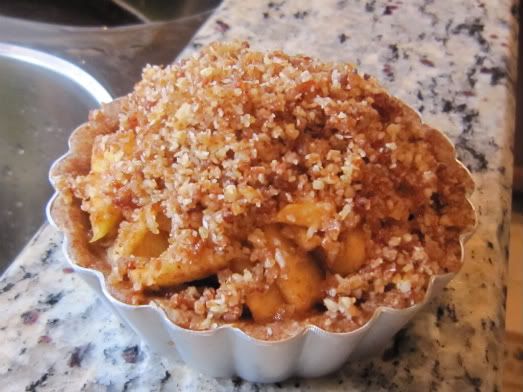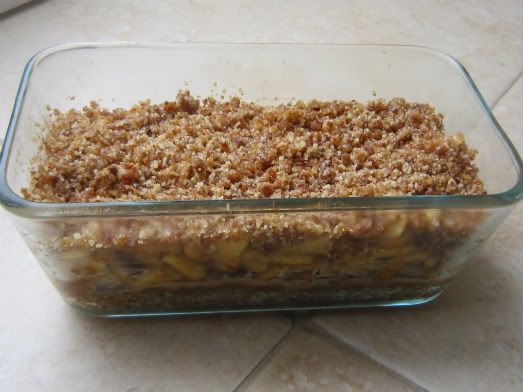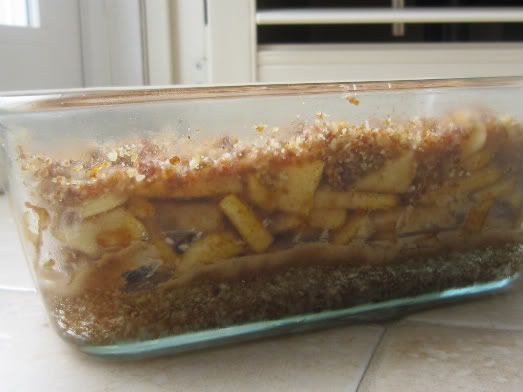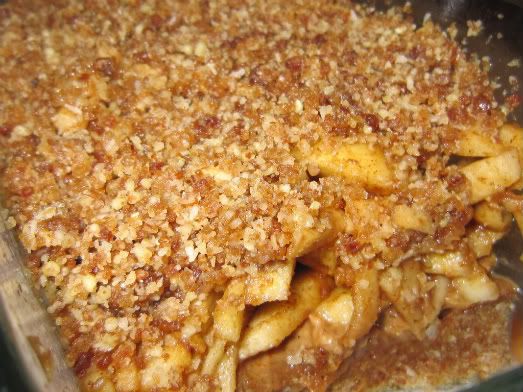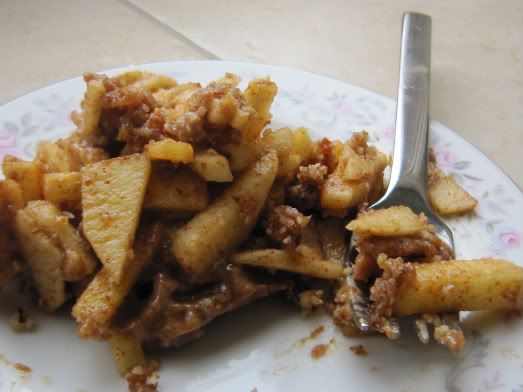 on the savoury and cooked side of things...i put together a yummy indian dish...inspired by the beauty behind
girl on raw
...
pigeon pea quinoa curry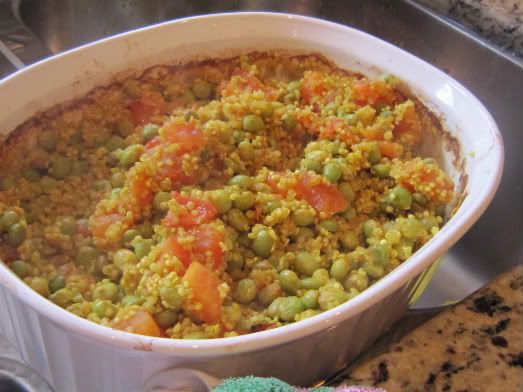 1/2 a cup of quinoa
1 cup of water
1 package of frozen pigeon peas
2 chopped tomatoes
2 tbsp curry powder
preheat oven to 450 degrees, put all ingredients in an oven safe dish, or cook on stove top...(if cooking on stove top cook on medium heat)...cook for 20 mins or until all water has been absorbed. remove from oven, or turn heat off (stove top), and let stand for 5 mins. enjoy!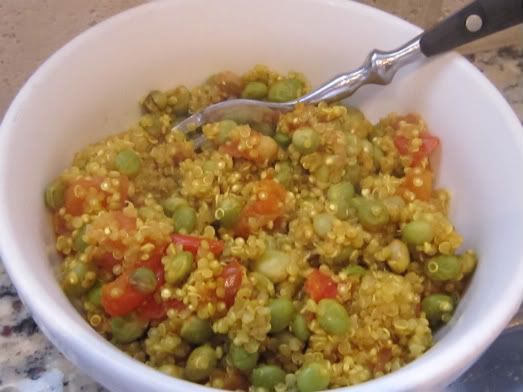 today i am grateful for the beautiful country i was born and raised in. it is free and it is grand...i am grateful for all the fresh water and vegetation i am able to survive on...this land is bountiful...and i am truly blessed...i am also grateful for the wonderful comfortable bed i get to relax in...it is definitely really good for my back and is part of the reason i was able to overcome sciatica the first time i suffered from it...
hope you all had a beautiful day...sweet dreams my lovelies...
<3