jokes! although it is making my eyes water quite a bit...i find it pretty fumy...
anyways...sorry i've been MIA...my excuse or (ahem) explanation is that by the end of the day i can barely see...my eyesight is pretty bad...i'll be picking up my eyeglasses sometime this week...so it should be a little easier for me to focus and blog properly...in case you're all wondering, yes the screen is
VERY
,
EXTREMELY
blurry right now...and it has been for months...but i'm trying...i feel like such an old fart...
today i said "see ya later" to my almost father in law...he is going to ukraine for a few months...and i got pretty emotional...i always do...not sure why though. he is coming back. and i will see him in a couple of months, and he will be having a fabulous time...i'm such an emotional gal...i wear my heart on my sleeve and i cry just about every two minutes...again, jokes!!! to be honest with all of you, i am such a suck. that is the best way to describe it. or my heart is just extremely soft. one of the two. anyone else extremely emotional? or am i a rarity?
i picked up
ani phyo
's
new book
this weekend, who hasn't? and i am in love...it is such a fabulous, informative and easy to follow uncook book...it truly is a raw food essential...anyone interested in raw vegan food needs this book...i think it's one of the best i have come across (hands down)!
i've made a couple of her recipes thus far, and this may surprise all of you, considering the amount of desserts i have been producing as of late, i stuck to the more savory recipes...but, don't you fear, i will be posting some raw vegan dessert porn in the next few days...also, i do have a batch of moon pies setting in my freezer right now...so you see, i am still a dessert girl at heart...
first up...
coconut bacon
...i followed the recipe exactly, except i subbed dried chipotle peppers, which i reconstituted and made into a paste to replace liquid smoke...and i also added a touch of hungarian paprika...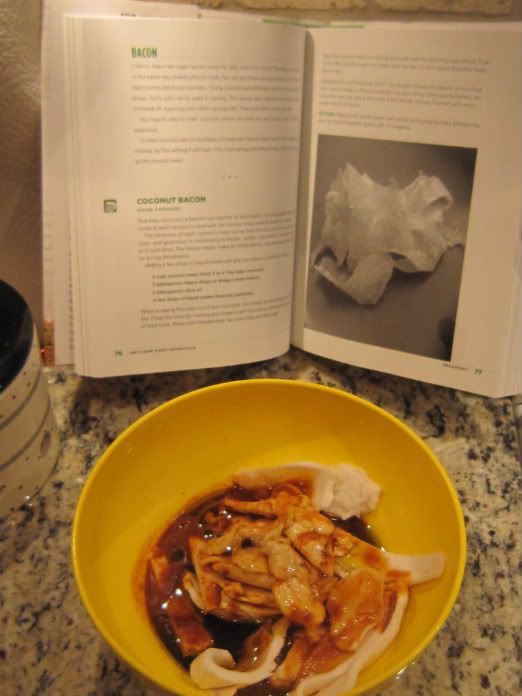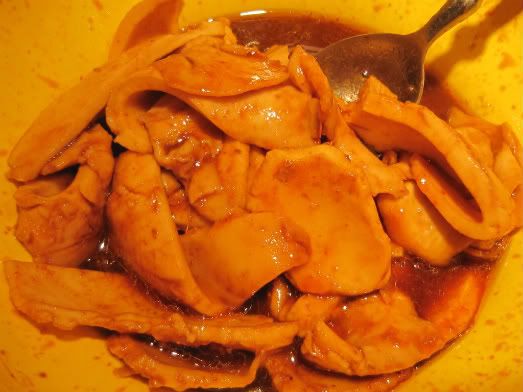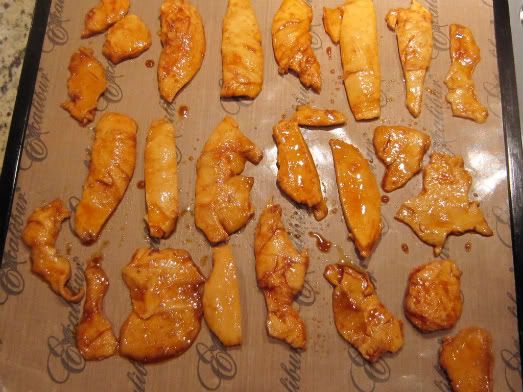 it's still in the dehydrator...i can, however, tell you that the marinade was VERY tasty...also in the dehydrator are a few
hemp sun burgers
...(i only made one change, that was replacing flax with chia seeds)...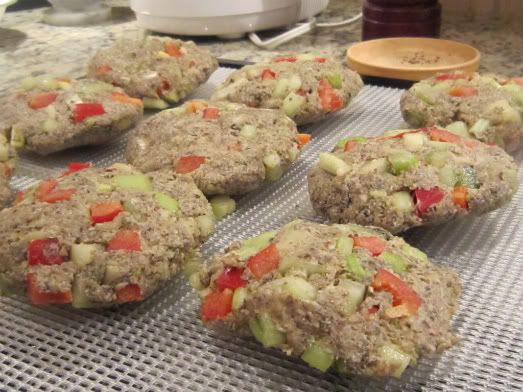 i'll leave you with a picture of my breakfast for tomorrow...a very simple
strawberry mango crumble
...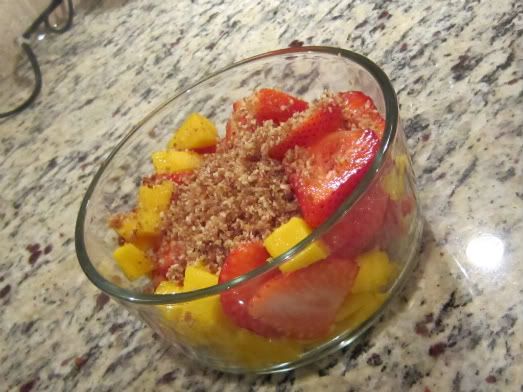 have a beautiful night my friendlies...
p.s. one of my
favourite girls
is having a fabulous giveaway...this is one contest YOU need to check out...
p.p.s. there will be a pretty fantastic giveaway in this area in a few days...so stay tuned...can you guess what the giveaway is???
sweet dreams...