i've always been a pretty thin girl (the above pics were taken before my weight gain)...until this year, i feel as though i've become something i no longer recognize anymore. i haven't felt comfortable in my own skin for a while. i no longer like to have my picture taken...i cringe at the thought...when i made plans to meet
camille
, i shuddered at the thought of her taking photographs of me...and in fact, i asked her not to post the photo of us she had taken...because "i looked like a beached whale"...i'm definitely not proud of the way i feel...in fact, it's been weighing on me a lot lately...i've been thinking that i really need to change my attitude. how can i be any sort of role model for young girls who are so impressionable and so prone to eating disorders, because of people like me?! it makes me so sad...
so instead of feeling embarrassed or ashamed of this body of mine...i need to be thankful for it...yes, i've gained a few pounds...i had sciatica for a year...and was on pain meds and could barely move...but this body of mine was strong enough to get out of bed every morning...and no matter how much pain i felt...and how badly i wanted to amputate my right leg...it kept on going. it never shut down. i was able to live every day to the fullest...with a few "cry" breaks...i was able to drive to work...i was able to cook...and function normally...my body is strong. and regardless of the extra weight, it's a beautiful gift, and i need to cherish it...and in return it takes care of me. this body of mine...managed to kick sciatica in the butt...we worked together...and it happened. now that is what i call a strong perfect body. and i am so thankful for it. weight, well, weight comes off...with a little work my body can be what it use to be...but honestly, at the end of the day, weight doesn't make me the person that i am...i know this. and i hope to carry this with me everyday...and i hope to keep this new found love i have for myself until the very end of my days here on earth...
i am thankful for this body that my soul lives in because it is an incredible vessel...and i will never ever shun it...it is with me until the very day i die...and i need to embrace it. it has been very good to me. it has helped me through many sicknesses...and injuries...it has battled much stress...and it's gotten me through very hard times...and it's been with me through the good times as well...it's never failed me. ever. and for this, i am thankful...and forever indebted to my body.
veganism. i am so happy and proud to be vegan. i have never enjoyed my food so much. being a vegan brings me such joy and such happiness. i became vegan a year ago. during my sciatica days. i did a lot of research, and realized that most of the food i was eating was so destructive...and inflamed my insides. so, i decided to eat anti-inflammatory foods...which lead me to veganism. people ask me everyday if i miss meat...cheese...butter...milk...and i say, with such conviction..."no, i do not miss any of it"...how can anyone miss animal products, when they can eat what i eat everyday? food rich in nutrients and vitamins...kind food...environmentally friendly food...beautiful colourful food...and it is such a joy to create such beautiful dishes...with the earth's bounty. we live in such a beautiful world...with so much to offer...i wish every human being could feel the way i feel...and help me save this beautiful world...however i am not a preacher...and i know i will never be able to change or better the world, so i mind my own business and do my part...what i don't appreciate is when other people try to push their meat eating ways on me...i don't do it to you, so why feel the need to preach my way? i am grounded. i will never budge. i am proud of what i am. i am thankful for this way of life. and i will be a vegan until the very day i die...
food love. like i said...how can anyone want to eat a steak...when they can eat this...
raw vegan
avocado caesar salad with coconut bacon and hemp sunshine burger
, hummus and cracks on the side...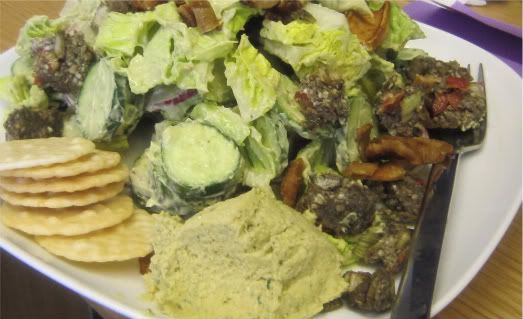 banana flax crepes, nutella, whipped cashew cream and strawberries
(i subbed sprouted chia for the flax)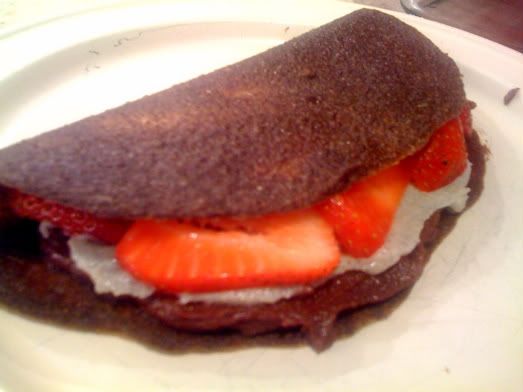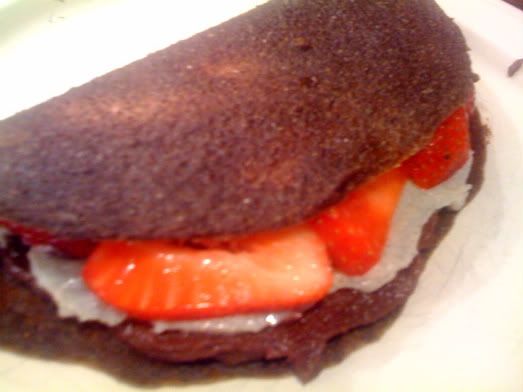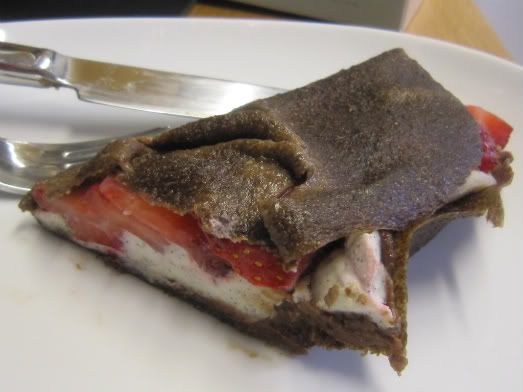 brazil nut banana pancakes, nutella, cashew whipped cream, strawberries and berry sauce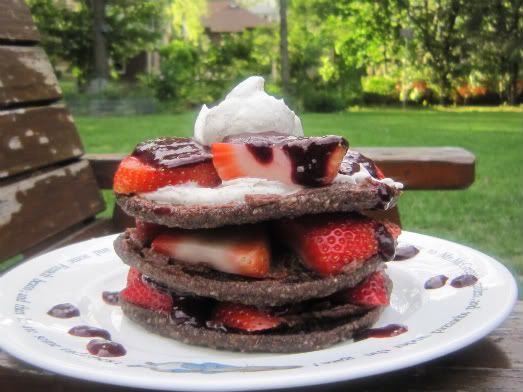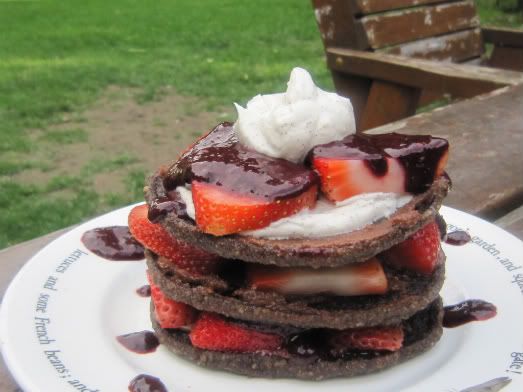 and last but never least...
a cooked vegan meal
...
pizza
...with daiya cheese...tomato basil sauce, zucchini, tempeh bacon and green olives...YUM!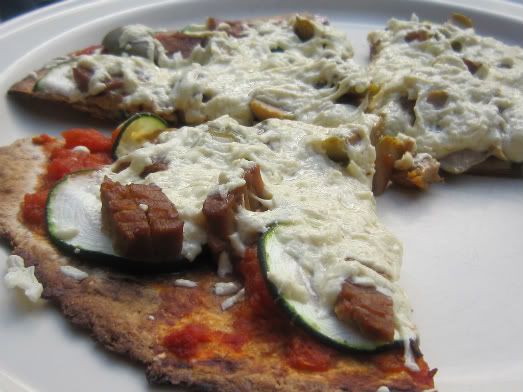 have a beautiful night...
p.s. if anyone in the toronto area, or the gta would like to join our
vegan patio party
this saturday afternoon...please let me know...