that's a line from one of my fave beach boys' songs...disney girls...
so i wanted to clear something up...because i think a lot of people misunderstood something i quoted john saying to me in my
last post
..."you didn't win the battle, but you're about to win the war"...did not in any way, shape or form mean anything bad at all...what john meant is..."you didn't win the contest, but think of all the other good things that have come from the whole experience"...that's all folks...there was no ill will intended...and like i mentioned, he is really into this new show "
the pacific
"...and likes to use war lingo...haha! that's all i got...
a few interesting things happened to me this week...i was at
panacea
on wednesday, and i bumped into this
lovely lady
...not that i know her or anything...but i know of her...she's a pretty sweet gal...it was absolutely cool to bump into someone famous...and i told her..."hey, i follow your blog"...haha...and she was actually quite gracious...and even said bye to me as she left the store...
i bought a few things on wednesday, to help me along with my raw vegan dessert creations...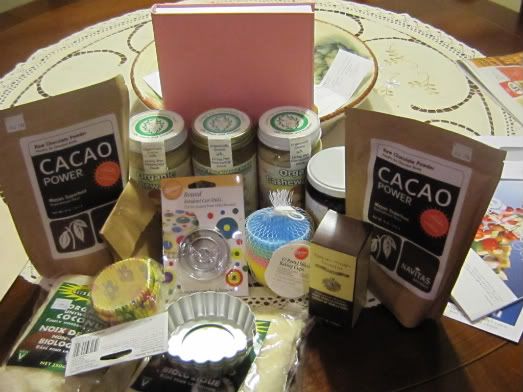 shannon marie
, do you see anything interesting in my little pile of goodies? i can't believe that
this store
sells those cute little silicone cupcake liners for $40...and i managed to find them for $13...at this
lovely store
...this is where i go to get all my unbaking needs!!!
wednesday night, my almost father-in-law was cooking a frozen pizza in the oven...and, the oven really needed a good cleaning...it had been sending smoke signals out for the last week and a half!!! the alarm went off 4 times...poor jackson was freaking out...there was an incident before christmas, we left the house because john's grandmother was very ill, and we were told she was going to pass away...and there was something cooking on the stove, well suffice it to say, the house was empty, with hummer and jackson, and a pot of cooking food...well, the fire alarm sounded, firetrucks were dispatched to the house...and the firemen broke down the door...and came to the rescue! thank goodness! could have been such a tragedy, but it all worked out! anyway, since that day jackson is afraid of smoke...and alarms, and the oven fan...he becomes so agitated and has so much anxiety...two firetrucks were dispatched to the house on wednesday evening...and i feel horrible saying that i was sort of excited! but i also felt quite badly for the firemen!!! they were very kind and gracious though...so i totally appreciated that! and, HUBBA HUBBA...i think they're so dreamy!
yesterday i was lucky enough to go to
cruda cafe
, hands down, some of the best raw food i have ever tasted...i ordered lunch and dinner...
enchilada (flourless organic corn wraps, guac, spinach and house salsa with raw vegan chili and marinated organic mushrooms)...to die for...
and...
and for dinner...wild mushroom nut burger (rests on a bed of boston lettuce, tomato, cilantro, guac, micro greens, beets and carrots)...YUMMY! best dinner i've had in a long time...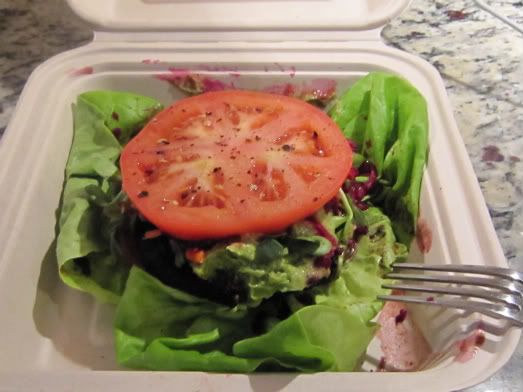 so that's all folks...hope you all have a very lovely weekend, it's suppose to be a little rainy, but mostly sunny here in Tdot...i'm pretty excited about playing with the sun this weekend...we have a few things going on...what do you all have planned? this is also a long weekend for us...monday off babies!!!
have a beautiful day!
<3