thank you so much for all of your kind words and support regarding my
last post about my fear of flying
...i want to say thank you to all of you that took the time to read and leave such comforting words and thank you so much for telling me about your fears...
yesterday i spent the day with
my raw candy girl
...
lisa
...and
marlie
...camille, lisa and myself all met at
brick works farmer's market
...i had such a lovely time perusing the isles of fresh organic greens and sprouts and veggies...and seasonal fruits (peaches, plums and apricots)...i am definitely going back next weekend...
i picked up some heirloom root veggies, i thought it would be really nice to roast them today for my mama's birthday lunch/dinner...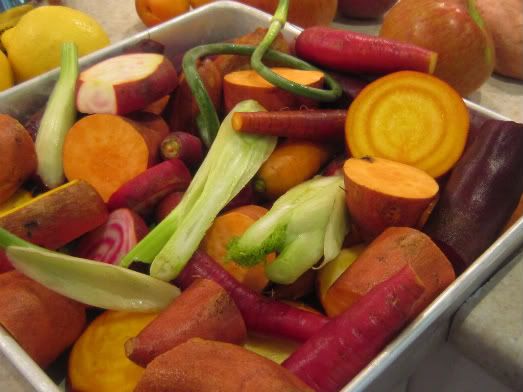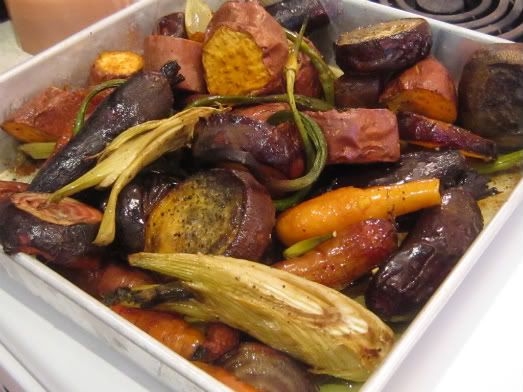 we also picked up some sweet potatoes, organic baby mustard greens and sprouts...peaches, apricots and blueberries...with our bounty we made a very lovely lunch and dinner and some beautiful raw vegan desserts...
we also made a trip to little india because i wanted to buy some authentic tiffins and we came upon some pakistani treasure...pakistani mangoes...OMG...beautiful. these mangoes are a gem...and people come from very far away (the united states) to eat them...these mangoes are all the rage folks...if you get a chance to try them, don't pass up the chance...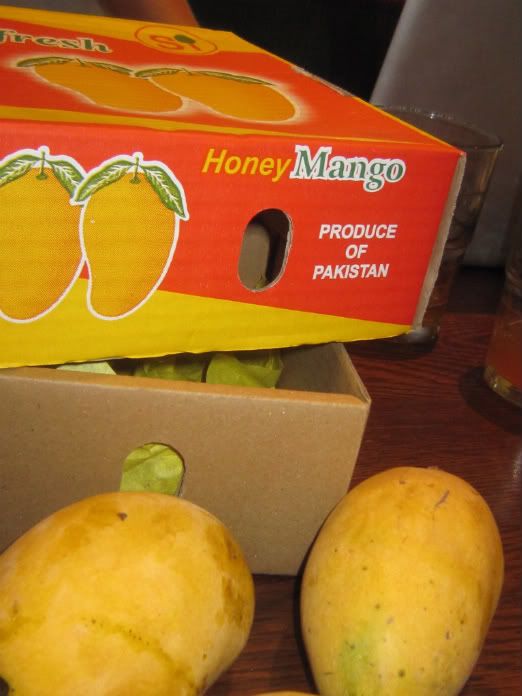 my sweetheart is back from las vegas...so i'm gonna make the rest of this post simple...yesterday was so much fun...let's face it, when you, as a raw vegan or vegan foodie think of the most amazing day...what does it entail? a morning spent at a farmer's market, a day in the kitchie creating the most amazing raw vegan desserts...eating loads and loads of kale salad, saurkraut, sweet potatoes, hummus, sauteed lobster mushrooms, portabello mushrooms, red swiss chard and zucchini? i hope so...because that kinda day for me is a dream come true...i wish everyday could be spent doing all of those things...i leave you with a photo journal of part of my day yesterday, the part where i enjoyed myself in the kitchie...
raw vegan lunch
(kale and baby mustard green salad with avo, my homemade saurkraut and nori crackers)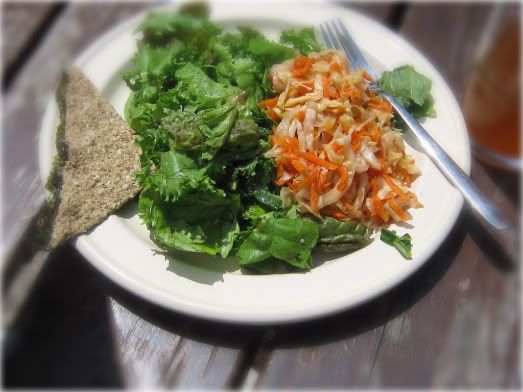 raw vegan and vegan dinner
(sweet potato salad, sauteed veggies, kale and mustard green salad with avo and pakistani mango lime dressing, sauerkraut, and hummus)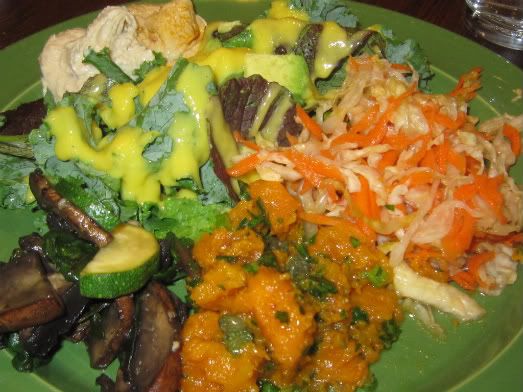 raw vegan blueberry lavender cheezecake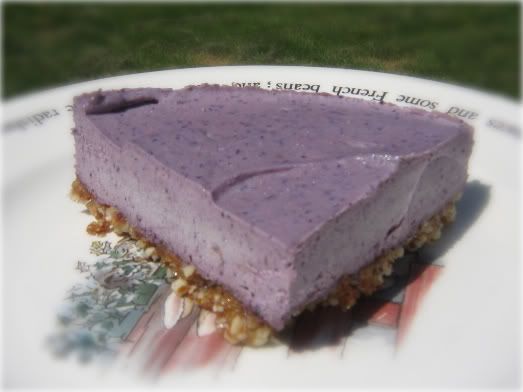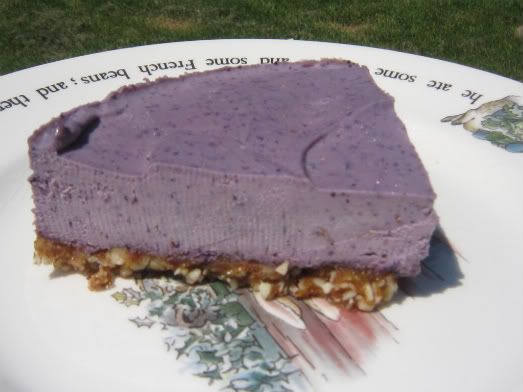 raw vegan french macaroons with apricot creme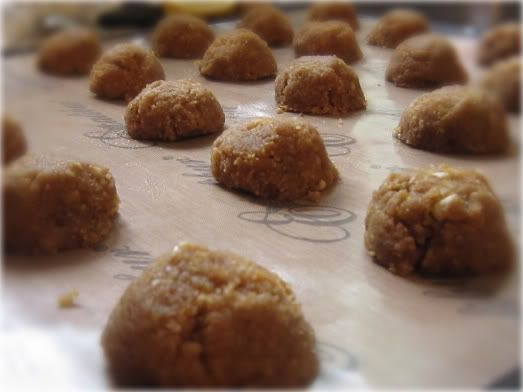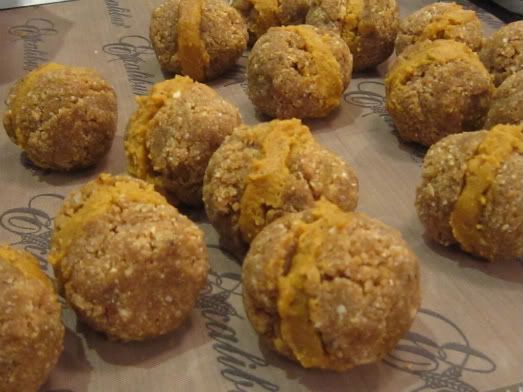 ginger peach ice box cake
(adapted from this
recipe
)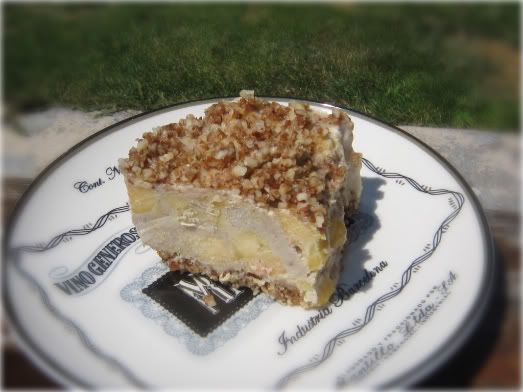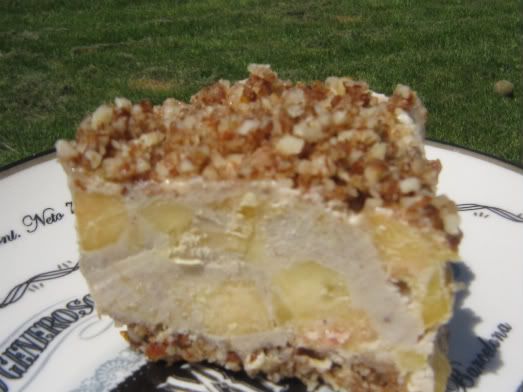 and last but not least...a dessert i made to bring to my mom today...an adapted version of
raw food living's
chocolate caramel bars
...i will post my changes in the next couple of days...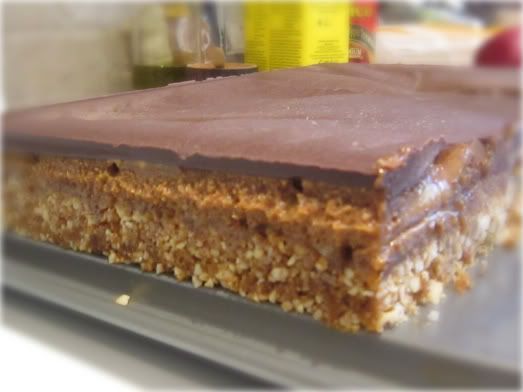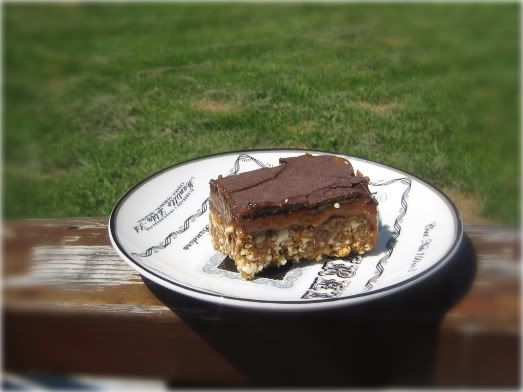 good night my friends...have a beautiful night...i'm off to cuddle and watch a movie with my love and my jackson...